Climate Controls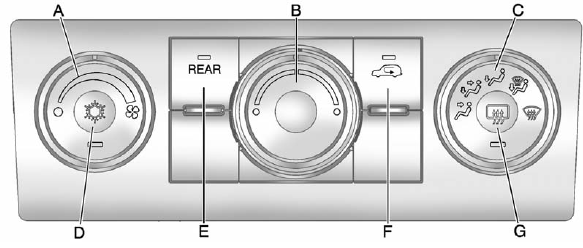 A. Fan Control
B. Temperature Control
C. Air Delivery Mode Control
D. Air Conditioning
E. REAR (Rear Climate Control)
F. Recirculation
G. Rear Window Defogger
Dual Automatic Climate Control System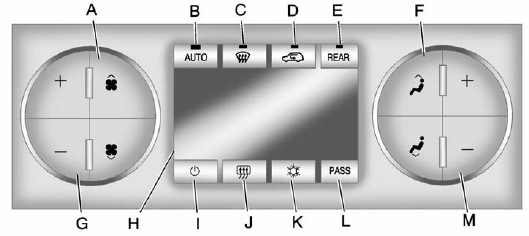 A. Fan Control
B. AUTO (Auto Operation)
C. Defrost
D. Recirculation
E. REAR (Rear Climate Control)
F. Air Delivery Mode Control
G. Driver Side Temperature Control
H. Display
I. Power (On/Off)
J. Rear Window Defogger
K. Air Conditioning
L. PASS (Passenger)
M. Passenger Side Temperature Control
See Climate Control Systems on page 8‑1 or Dual Automatic Climate Control System on page 8‑4 (If Equipped). For more information about the rear climate control, see Rear Climate Control System (Rear Climate Control Only) on page 8‑10 or Rear Climate Control System (Rear Climate with Rear Seat Audio) on page 8‑11.
See also:
FM
FM signals only reach about 16 to 65 km (10 to 40 mi). Although the radio has a built-in electronic circuit that automatically works to reduce interference, some static can occur, especially aroun ...
End a Call
Push . System responds: "Call ended." ...
Driving on Grades
Reduce speed and shift to a lower gear before starting down a long or steep downgrade. If the transmission is not shifted down, the brakes might get hot and no longer work well. Vehicles can tow in D ...