When It Is Time for New Tires
Factors such as maintenance, temperatures, driving speeds, vehicle loading, and road conditions affect the wear rate of the tires.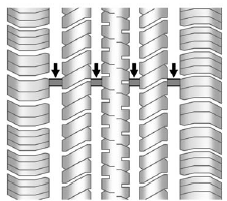 Treadwear indicators are one way to tell when it is time for new tires. Treadwear indicators appear when the tires have only 1.6mm (1/16 in) or less of tread remaining. See Tire Inspection on page 10‑57 and Tire Rotation on page 10‑57 for more information.
The rubber in tires ages over time. This also applies for the spare tire, if the vehicle has one, even if it is never used. Multiple conditions including temperatures, loading conditions, and inflation pressure maintenance affect how fast aging takes place. Tires will typically need to be replaced due to wear before they may need to be replaced due to age. Consult the tire manufacturer for more information on when tires should be replaced.
See also:
Seat Adjustment
WARNING You can lose control of the vehicle if you try to adjust a manual driver seat while the vehicle is moving. The sudden movement could startle and confuse you, or make you push a pedal when you ...
Trailer Brakes
Does the trailer have its own brakes? Be sure to read and follow the instructions for the trailer brakes so they are installed, adjusted, and maintained properly. Because the vehicle has antilock b ...
Replacing Brake System Parts
The braking system on a vehicle is complex. Its many parts have to be of top quality and work well together if the vehicle is to have really good braking. The vehicle was designed and tested with top- ...