How to Inspect the Engine Air Cleaner/Filter
To inspect the air cleaner/filter, remove the filter from the vehicle and lightly shake the filter to release loose dust and dirt. If the filter remains covered with dirt, a new filter is required. Never use compressed air to clean the filter.
To inspect or replace the engine air cleaner/filter:
1. Open the hood. See Hood on page 10‑5.
2. Locate the air filter housing on the passenger side of the engine compartment. See Engine Compartment Overview on page 10‑6.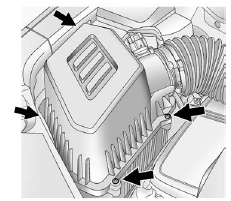 3. Remove the four air cleaner housing cover screws.
4. Pull straight up on the cover, and while holding the cover, remove the air cleaner filter.
5. Inspect or replace the air cleaner filter.
See also:
Express Down Windows
Windows that have the express&-down feature allow the windows to be lowered without holding the switch. Press the window switch fully and release it to activate the express&-down feature. ...
Tire Pressure Monitor Operation
This vehicle may have a Tire Pressure Monitor System (TPMS). The TPMS is designed to warn the driver when a low tire pressure condition exists. TPMS sensors are mounted onto each tire and wheel as ...
Vehicles without Navigation System
The rear vision camera system is designed to help the driver when backing up by displaying a view of the area behind the vehicle. When the key is in the ON/RUN position and the driver shifts the vehi ...