Engine Cover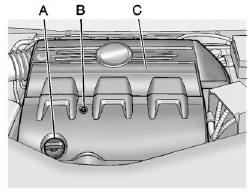 Engine Cover 3.0L V6
A. Oil Fill Cap
B. Engine Cover Bolt
C. Engine Cover
To remove:
1. Remove the oil fill cap (A).
2. Remove the engine cover bolt (B).
3. Raise the engine cover (C) to release from the retainers.
4. Lift and remove the engine cover.
5. Reverse Steps 1 through 4 to reinstall engine cover.
See also:
Recommended Fluids, Lubricants, and Parts
Recommended Fluids and Lubricants Maintenance Replacement Parts Replacement parts identified below by name, part number, or specification can be obtained from your dealer. ...
Washer Fluid
What to Use When adding windshield washer fluid, be sure to read the manufacturer's instructions before use. If the vehicle will be operating in an area where the temperature may fall below freezing, ...
Compass Calibration Procedure
1. Before calibrating the compass, make sure the compass zone is set to the variance zone in which the vehicle is located. See "Compass Variance (Zone) Procedure" earlier in this section. Do not ...