Fuel Economy Mode
Vehicles with a 2.4L engine have a Fuel Economy Mode. When engaged, fuel economy mode can improve the vehicle's fuel economy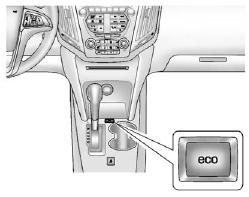 Press the "eco" (economy) button by the shift lever to turn this feature on or off. The "eco" light in the instrument cluster will come on when engaged. See Fuel Economy Light on page 5‑21.
A Driver Information Center (DIC) message "ECO MODE ON" is also displayed. See Fuel System Messages on page 5‑29 for more information.
When Fuel Economy Mode is on:
○ The transmission will upshift sooner and downshift later.
○ The torque converter clutch will apply sooner and stay on longer.
○ The gas pedal will be less sensitive.
○ The vehicle's computer will more aggressively shut off fuel to the engine under deceleration.
○ The engine idle speed will be lower.
○ Driving performance is more conservative.
See also:
Remote Control
To use the remote control, aim it at the transmitter window at the rear of the RSE overhead console and press the desired button. Direct sunlight or very bright light could affect the ability of the ...
Rear Window Wiper/Washer
The rear wiper and rear wash button is located on the instrument panel below the climate control system. (Rear Wiper): Press to turn the rear wiper on and off. The wiper speed cannot be changed. ( ...
Selecting the Right Engine Oil
Selecting the right engine oil depends on both the proper oil specification and viscosity grade. See Recommended Fluids and Lubricants on page 11‑12. Specification Use and ask for licensed e ...