Video Screens
The video screens are located in the back of the driver and front passenger seats.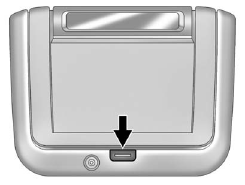 To use the video screen:
1. Push the release button located on the seatback console.
2. Move the screen to the desired viewing position.
Push the video screen down into its locked position when it is not in use. The screen turns off automatically.
Only the left RSE seatback console contains the infrared transmitters for the wireless headphones. They may be visible as eight illuminated LEDs. These LEDs are not on the right video screen. Both seatback consoles contain an infrared receiver for the remote control. They are located at the top of each console.
Notice: Avoid directly touching the video screen, as damage may occur. See "Cleaning the Video Screens" later in this section for more information.
See also:
Before Driving
The RSE is for rear seat passengers only. The driver cannot safely view the video screen while driving. In severe or extreme weather conditions, the RSE system may not work until the temperature ...
Using Cruise Control on Hills
How well the cruise control works on hills depends on the vehicle speed, the load, and the steepness of the hills. When going up steep hills, pressing the accelerator pedal may be necessary to maintai ...
Folding the Seatback
Notice: Folding a rear seat with the safety belts still fastened may cause damage to the seat or the safety belts. Always unbuckle the safety belts and return them to their normal stowed position befo ...