Safety Belt Use During Pregnancy
Safety belts work for everyone, including pregnant women. Like all occupants, they are more likely to be seriously injured if they do not wear safety belts.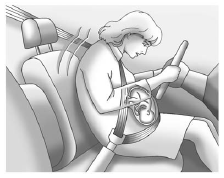 A pregnant woman should wear a lap-shoulder belt, and the lap portion should be worn as low as possible, below the rounding, throughout the pregnancy.
The best way to protect the fetus is to protect the mother. When a safety belt is worn properly, it is more likely that the fetus will not be hurt in a crash. For pregnant women, as for anyone, the key to making safety belts effective is wearing them properly.
See also:
Hazard Warning Flashers
Hazard Warning Flasher: Press this button located on the instrument panel below the audio system, to make the front and rear turn signal lamps flash on and off. This warns others that you are hav ...
Tire Designations
Tire Size The examples show a typical passenger vehicle and light truck tire size. Passenger (P-Metric) Tire (A) Passenger (P-Metric) Tire: The United States version of a metric tire sizing syst ...
How to Wear Safety Belts Properly
This section is only for people of adult size. There are special things to know about safety belts and children. And there are different rules for smaller children and infants. If a child will be r ...