Footnotes — Maintenance Schedule Additional Required Services — Normal
a) Check all fuel and vapor lines and hoses for proper hook-up, routing, and condition. Check that the purge valve, if the vehicle has one, works properly. Replace as needed.
b) Or every four years, whichever comes first.
c) Do not directly power wash the transfer case output seals. High pressure water can overcome the seals and contaminate the transfer case fluid. Contaminated fluid will decrease the life of the transfer case and should be replaced.
d) Or every five years, whichever comes first. See Cooling System on page 10‑19.
e) Or every 10 years, whichever comes first. Inspect for fraying, excessive cracking, or damage; replace, if needed.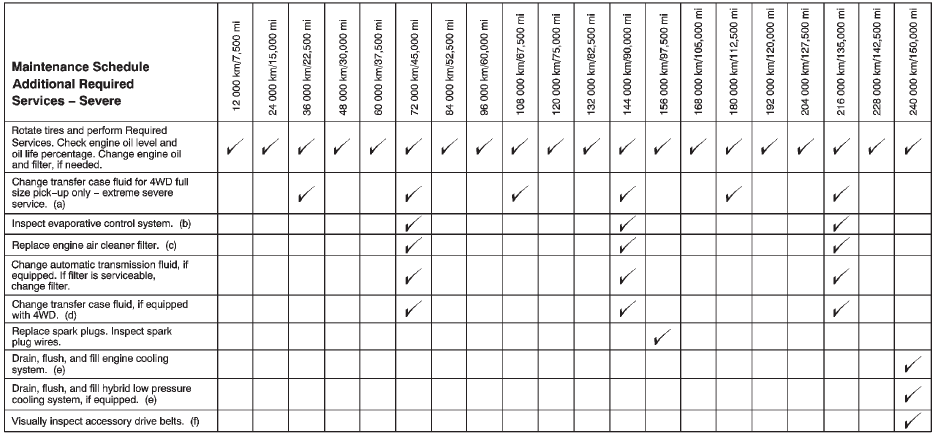 See also:
Vehicle Reminder Messages
ICE POSSIBLE DRIVE WITH CARE This message displays when the outside air temperature is cold enough to create icy road conditions. Adjust your driving accordingly. ...
Battery
This display shows the current battery voltage. If the voltage is in the normal range, the value will display. For example, the display may read BATTERY 13 VOLTS. Your vehicle's charging system regul ...
Recommended Fluids, Lubricants, and Parts
Recommended Fluids and Lubricants Maintenance Replacement Parts Replacement parts identified below by name, part number, or specification can be obtained from your dealer. ...