Rear Towing (Rear Wheels Off the Ground)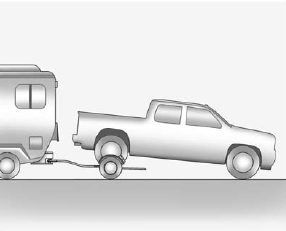 Two-Wheel-Drive Vehicles
Use the following procedure to dolly tow a two-wheel-drive vehicle from the rear:
1. Attach the dolly to the tow vehicle following the dolly manufacturer's instructions.
2. Drive the rear wheels onto the dolly.
3. Firmly set the parking brake.
See Parking Brake on page 9‑58.
4. Put the transmission in P (Park).
5. Secure the vehicle to the dolly following the manufacturer's instructions.
6. Use an adequate clamping device designed for towing to ensure that the front wheels are locked into the straight position.
7. Turn the ignition to LOCK/OFF.
See also:
Engine Oil Pressure Light
WARNING Do not keep driving if the oil pressure is low. The engine can become so hot that it catches fire. Someone could be burned. Check the oil as soon as possible and have the vehicle serviced ...
Shifting Out of Four-Wheel Drive Low
To shift from Four-Wheel Drive Low to Four-Wheel Drive High, or Two-Wheel Drive High, the vehicle must be stopped or moving less than 5 km/h (3 mph) with the transmission in N (Neutral) and the igniti ...
Trailer Sway Control (TSC)
Non-hybrid vehicles with StabiliTrak have a Trailer Sway Control (TSC) feature. If the vehicle is towing a trailer and the system detects that the trailer is swaying, the vehicle brakes are applied wi ...