Hood
To open the hood:

1. Pull the handle with this symbol on it. It is located inside the vehicle to the left of the brake pedal.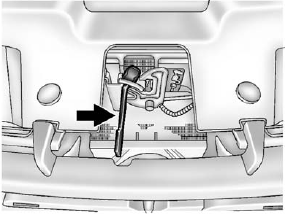 2. Go to the front of the vehicle and locate the secondary hood release. This is located under the hood, near the center of the grille.
3. Push the secondary hood release to the right.
4. Lift the hood.
Before closing the hood, be sure all the filler caps are on properly.
Then bring the hood from full open to within 152mm (6 in) from the closed position, pause, and push the front center of the hood with a swift, firm motion to fully close the hood.
See also:
Safety Locks
The vehicle has rear door security locks to prevent passengers from opening the rear doors from the inside. Open the rear doors to access the security locks on the inside edge of each door. To set ...
Driving on Snow or Ice
Drive carefully when there is snow or ice between the tires and the road, creating less traction or grip. Wet ice can occur at about 0°C (32°F) when freezing rain begins to fall, resulting in even ...
Format
Radios that have the capability of playing MP3s can play.mp3 or .wma files that were recorded onto a CD-R or CD-RW disc. The files can be recorded with the following fixed bit rates: 32 kbps, 40 kbps, ...