Heavy-DutyTrailer Wiring Harness Package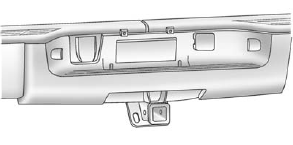 For vehicles equipped with heavy duty trailering, the harness connector is mounted in the bumper.
The seven-wire harness contains the following trailer circuits:
• Yellow: Left Stop/Turn Signal
• Dark Green: Right Stop/Turn Signal
• Brown: Taillamps
• White: Ground
• Light Green: Back-up Lamps
• Red: Battery Feed*
• Dark Blue: Trailer Brake*
*The fuses for these two circuits are installed in the underhood electrical center, but the wires are not connected. They should be connected by your dealer or a qualified service center. The fuse and wire for the ITBC is factory installed and connected if the vehicle is equipped with an ITBC.
The fuse for the battery feed is not required if the vehicle has an auxiliary battery. If the vehicle does not have an auxiliary battery, have your dealer or authorized service center install the required fuse.
If charging a remote (non-vehicle) battery, press the Tow/Haul Mode button, if equipped, located at the end of the shift lever. This will boost the vehicle system voltage and properly charge the battery. If the trailer is too light for Tow/Haul Mode, or the vehicle is not equipped with Tow/Haul, turn on the headlamps as a second way to boost the vehicle system and charge the battery.
See also:
Battery
Refer to the replacement number on the original battery label when a new battery is needed. WARNING Battery posts, terminals, and related accessories contain lead and lead compounds, chemicals k ...
Tailgate
WARNING It is extremely dangerous to ride on the tailgate, even when the vehicle is operated at low speeds. People riding on the tailgate can easily lose their balance and fall in response to vehicl ...
Skidding
There are three types of skids that correspond to the vehicle's three control systems: • Braking Skid — wheels are not rolling. • Steering or Cornering Skid — too much speed or steering in a ...