Turning the RVC System On or Off
To turn the RVC system on or off:
1. Shift into P (Park).
2. Press MENU to enter the configure menu options. Turn the Multifunction knob until the Display feature is highlighted and press the Multifunction knob. Or press the Display screen button 3. Select the Rear Camera Options screen button. The Rear Camera Options screen displays.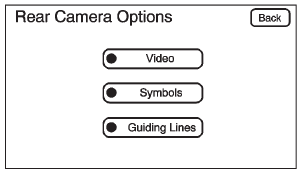 4. Select the Video screen button.
When the Video screen button is highlighted the RVC system is on.
The delay after shifting out of R (Reverse) is approximately 10 seconds. The delay can be canceled by performing one of the following:
• Pressing a hard key on the navigation system.
• Shifting into P (Park).
• Reaching a vehicle speed of 8 km/h (5 mph).
See also:
Reducing Speed While Using Cruise Control
If the cruise control system is already activated, . Press and hold the SET– button on the steering wheel until the desired lower speed is reached, then release it. • To slow down in small amount ...
Protecting Exterior Bright Metal Parts
Regularly clean bright metal parts with water or chrome polish on chrome or stainless steel trim, if necessary. For aluminum, never use auto or chrome polish, steam, or caustic soap to clean. A coati ...
Care of CDs and DVDs
If playing a CD-R or CD-RW, the sound quality can be reduced due to CD-R or CD-RW quality, the method of recording, the quality of the music that has been recorded, and the way the CD-R or CD-RW has b ...