Climate Controls
The vehicle's heating, cooling, defrosting, and ventilation can be controlled with these systems.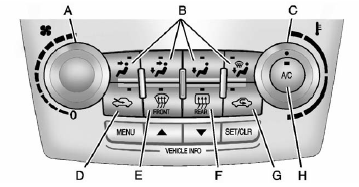 Climate Control System
A. Fan Control
B. Air Delivery Mode Controls
C. Temperature Control
D. Outside Air
E. Front Defrost
F. Rear Window Defogger
G. Recirculation
H. Air Conditioning
Automatic Climate Control System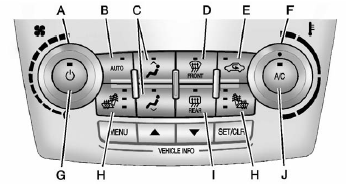 A. Fan Control
B. AUTO (Automatic Operation)
C. Air Delivery Mode Controls
D. Front Defrost
E. Recirculation
F. Temperature Control
G. Power
H. Driver and Passenger Heated Seats
I. Rear Window Defogger
J. Air Conditioning
See Climate Control Systems on page 8‑1 (If Equipped) or Automatic Climate Control System on page 8‑3 (If Equipped).
See also:
Brake Assist
This vehicle has a brake assist feature designed to assist the driver in stopping or decreasing vehicle speed in emergency driving conditions. This feature uses the stability system hydraulic brak ...
Steering in Emergencies
• There are some situations when steering around a problem may be more effective than braking. • Holding both sides of the steering wheel allows you to turn 180 degrees without removing a hand. ...
Leaving the Vehicle With the Engine Running
WARNING It can be dangerous to leave the vehicle with the engine running. The vehicle could move suddenly if the shift lever is not fully in P (Park) with the parking brake firmly set. If you have ...