Programming Universal Home Remote — Rolling Code
For questions or help programming the Universal Home Remote System, call 1-866-572-2728 or go to www.learcar2u.com.
Most garage door openers sold after 1996 are Rolling Code units.
Programming a garage door opener involves time-sensitive actions, so read the entire procedure before starting. Otherwise, the device will time out and the procedure will have to be repeated.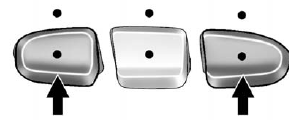 To program up to three devices:
1. From inside the vehicle, press the two outside buttons at the same time for one to two seconds, and immediately release them.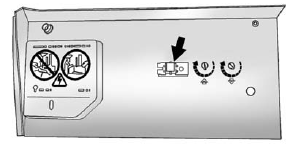 2. In the garage, locate the garage door opener receiver (motor-head unit). Find the "Learn" or "Smart" button. It can usually be found where the hanging antenna wire is attached to the motor-head unit and may be a colored button.
Press this button. After pressing this button, complete the following steps in less than 30 seconds.
3. Immediately return to the vehicle. Press and hold the Universal Home Remote button that will be used to control the garage door until the garage door moves. The indicator light, above the selected button, should slowly blink. This button may need to be held for up to 20 seconds.
4. Immediately, within one second, release the button when the garage door moves. The indicator light will blink rapidly until programming is complete.
5. Press and release the same button again. The garage door should move, confirming that programming is successful and complete.
To program another Rolling Code device such as an additional garage door opener, a security device, or home automation device, repeat Steps 1 through 5, choosing a different function button in Step 3 than what was used for the garage door opener.
If these instructions do not work, the garage door opener is probably a Fixed Code unit. Follow the programming instructions that follow for a Fixed Code garage door opener.
See also:
Remote Keyless Entry (RKE) System Operation
The Remote Keyless Entry (RKE) transmitter functions work up to 60m (195 ft) away from the vehicle. There are other conditions which can affect the performance of the transmitter. See Remote Keyless ...
Safety Belt Reminders
Driver Safety Belt Reminder Light There is a driver safety belt reminder light on the instrument panel cluster. When the vehicle is started, this light flashes and a chime may come on to remind th ...
AM
The range for most AM stations is greater than for FM, especially at night. The longer range can cause station frequencies to interfere with each other. Static can occur when things like storms an ...