Fuel Gauge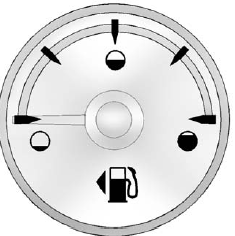 Metric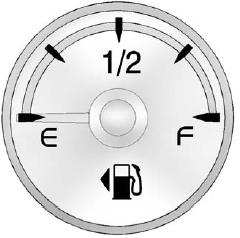 English
When the ignition is on, the fuel gauge shows about how much fuel is left in the fuel tank.
An arrow on the fuel gauge indicates the side of the vehicle the fuel door is on.
The gauge will first indicate empty before the vehicle is out of fuel, but the vehicle's fuel tank should be filled soon.
When the fuel tank is low the FUEL LEVEL LOW message appears.
See Fuel System Messages on page 5‑46 for more information.
Here are some situations owners can experience with the fuel gauge.
None of these indicate a problem with the fuel gauge.
• At the gas station, the fuel pump shuts off before the gauge reads full.
• It takes a little more or less fuel to fill up than the fuel gauge indicated. For example, the gauge may have indicated the tank was half full, but it actually took a little more or less than half the fuel tank's capacity to fill it.
• The gauge goes back to empty when the ignition is turned off.
If the vehicle has a diesel engine, see the Duramax diesel supplement for more information.
If the vehicle is a hybrid, see the hybrid supplement for more information.
See also:
Transferring Service
Push to request account transfer eligibility information. The Advisor can assist in canceling or removing account information. If OnStar receives information that vehicle ownership has changed, OnSta ...
Voice Recognition
The Bluetooth system uses voice recognition to interpret voice commands to dial phone numbers and name tags. For additional information, say "Help" while you are in a voice recognition menu. Noi ...
Driving with a Trailer
Towing a trailer requires experience. Get familiar with handling and braking with the added trailer weight. The vehicle is now longer and not as responsive as the vehicle is by itself. Check all tra ...