Steering Wheel
Adjustment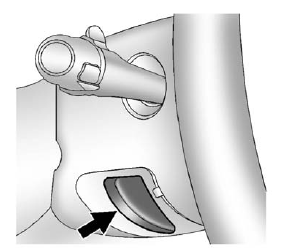 The tilt lever is located on the lower left side of the steering column.
To adjust the steering wheel:
1. Hold the steering wheel and pull the lever.
2. Move the steering wheel up or down.
3. Release the lever to lock the wheel in place.
Do not adjust the steering wheel while driving.
See also:
Vehicle Personalization (With DIC Buttons)
The vehicle may have customization capabilities that allow you to program certain features to one preferred setting. Customization features can only be programmed to one setting on the vehicle and can ...
Tire Pressure
Tires need the correct amount of air pressure to operate effectively. Notice: Neither tire underinflation nor overinflation is good. Underinflated tires, or tires that do not have enough air, can r ...
Lane Departure Warning (LDW)
For vehicles with LDW, it is intended to help avoid unintentional lane departures. It may provide a warning if the vehicle is crossing a lane without using a turn signal. LDW uses a camera sensor ...