Manual Lumbar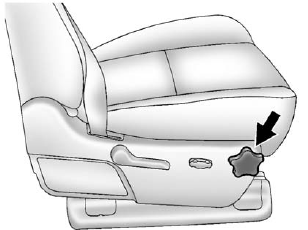 Manual Lumbar
If equipped, increase or decrease manual lumbar support by turning the knob forward or rearward.
See also:
Engine Coolant Heater
The engine coolant heater, if available, can help in cold weather conditions at or below −18°C (0°F) for easier starting and better fuel economy during engine warm-up. Plug in the coolant ...
When to Check and Change Automatic Transmission Fluid
It is usually not necessary to check the transmission fluid level. The only reason for fluid loss is a transmission leak or overheated transmission. If a small leak is suspected, then use the followi ...
Malfunction Indicator Lamp
A computer system called OBD II (On-Board Diagnostics-Second Generation) monitors the operation of the vehicle to ensure emissions are at acceptable levels, to produce a cleaner environment. This ligh ...