Seat Adjustment
WARNING
You can lose control of the vehicle if you try to adjust a manual driver seat while the vehicle is moving. The sudden movement could startle and confuse you, or make you push a pedal when you do not want to.
Adjust the driver seat only when the vehicle is not moving.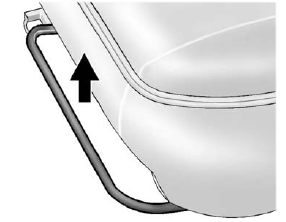 To adjust the seat:
1. Lift the bar under the front edge of the seat cushion to unlock the seat.
2. Slide the seat to the desired position and release the bar.
3. Try to move the seat back and forth to be sure the seat is locked in place.
See also:
Weight-Distributing Hitches and Weight Carrying Hitches
A. Body-to-Ground Distance B. Front of Vehicle When using a weight-distributing hitch, the hitch must be adjusted so that the distance (A) remains the same both before and after coupling the trail ...
Floor Mats
WARNING If a floor mat is the wrong size or is not properly installed, it can interfere with the pedals. Interference with the pedals can cause unintended acceleration and/or increased stopping dist ...
Turn Signals When Towing a Trailer
The turn signal indicators on the instrument panel flash whenever signaling a turn or lane change. Properly hooked up, the trailer lamps also flash, telling other drivers the vehicle is turning, chan ...