Windows
WARNING
Leaving children, helpless adults, or pets in a vehicle with the windows closed is dangerous.
They can be overcome by the extreme heat and suffer permanent injuries or even death from heat stroke. Never leave a child, a helpless adult, or a pet alone in a vehicle, especially with the windows closed in warm or hot weather.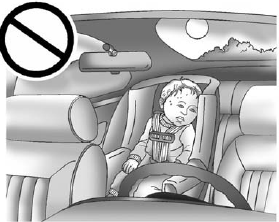 The vehicle aerodynamics are designed to improve fuel economy performance. This may result in a pulsing sound when either rear window is down and the front windows are up. To reduce the sound, open either a front window or the sunroof (if equipped).
See also:
Why Safety Belts Work
When riding in a vehicle, you travel as fast as the vehicle does. If the vehicle stops suddenly, you keep going until something stops you. It could be the windshield, the instrument panel, or the s ...
Cargo & Towing
The Yukon Denali is a spacious three-row SUV for people, but that's it. If there are six people and no cargo, the Yukon is a terrific place to be. If you have a lot of cargo — you know, like lug ...
Filling a Portable Fuel Container
WARNING Never fill a portable fuel container while it is in the vehicle. Static electricity discharge from the container can ignite the fuel vapor. You can be badly burned and the vehicle damaged ...