Battery Replacement
Replace the battery if the REPLACE BATTERY IN REMOTE KEY message displays in the DIC.
Notice: When replacing the battery, do not touch any of the circuitry on the transmitter. Static from your body could damage the transmitter.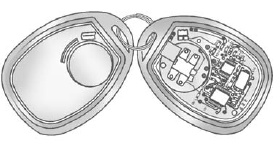 To replace the battery:
1. Separate the transmitter with a flat, thin object, such as a flat head screwdriver.
• Carefully insert the tool into the notch located along the parting line of the transmitter. Do not insert the tool too far. Stop as soon as resistance is felt.
• Twist the tool until the transmitter is separated.
2. Remove the old battery. Do not use a metal object.
3. Insert the new battery, positive side facing down. Replace with a CR2032 or equivalent battery.
4. Snap the transmitter back together.
See also:
Steering Wheel Adjustment
Steering Wheel Adjustment The tilt lever is located on the lower left side of the steering column. To adjust the steering wheel: 1. Hold the steering wheel and pull the lever. 2. Move the stee ...
Automatic Transmission Shift Lock Control Function Check
WARNING When you are doing this inspection, the vehicle could move suddenly. If the vehicle moves, you or others could be injured. 1. Before starting this check, be sure there is enough room aroun ...
Roadside Assistance Program (U.S. and Canada)
For U.S.-purchased vehicles, call 1-888-881-3302; (Text Telephone (TTY): 1-888-889-2438). For Canadian-purchased vehicles, call 1-800-268-6800. Service is available 24 hours a day, 365 days a year. ...