Off-Road Recovery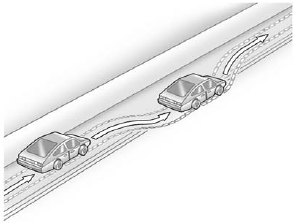 The vehicle's right wheels can drop off the edge of a road onto the shoulder while driving.
Follow these tips:
1. Ease off the accelerator and then, if there is nothing in the way, steer the vehicle so that it straddles the edge of the pavement.
2. Turn the steering wheel about one-eighth of a turn, until the right front tire contacts the pavement edge.
3. Then turn the steering wheel to go straight down the roadway.
See also:
Where to Put the Restraint
According to accident statistics, children and infants are safer when properly restrained in a child restraint system or infant restraint system secured in a rear seating position. We recommend that ...
Vehicle Security
This vehicle has theft-deterrent features; however, they do not make it impossible to steal. ...
Finding a Category (CAT) Station
CAT (Category): The CAT button is used to find XM stations when the radio is in the XM mode. To find XM channels within a desired category: 1. Press BAND until the XM frequency displays. 2. Press C ...