Sensors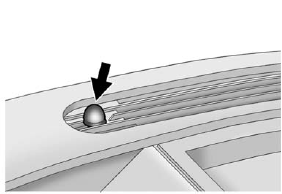 The solar sensor, located in the defrost grille in the middle of the instrument panel, monitors the solar heat. Do not cover the solar sensor or the system will not work properly.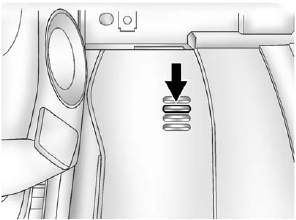 The interior temperature sensor located on the instrument panel to the right of the steering column, measures the temperature of the air inside the vehicle.
There is also an exterior temperature sensor located behind the front grille. This sensor reads the outside air temperature and helps maintain the temperature inside the vehicle. Any cover on the front of the vehicle could cause a false reading in the displayed temperature.
The climate control system uses the information from these sensors to maintain comfort settings by adjusting the temperature, fan speed, and air delivery mode.
The system may also supply cooler air to the side of the vehicle facing the sun. The recirculation mode will also be used as needed to maintain cool outlet temperatures.
See also:
Hill and Mountain Roads
Driving on steep hills or through mountains is different than driving on flat or rolling terrain. Tips for driving in these conditions include: • Keep the vehicle serviced and in good shape. • C ...
Accessories and Modifications
Adding non-dealer accessories or making modifications to the vehicle can affect vehicle performance and safety, including such things as airbags, braking, stability, ride and handling, emissions s ...
Key and Lock Messages
REPLACE BATTERY IN REMOTE KEY This message displays when the battery in the Remote Keyless Entry (RKE) transmitter needs to be replaced. ...