Voltmeter Gauge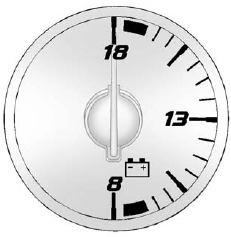 When the engine is not running, but the ignition is turned on, this gauge shows the battery's state of charge in DC volts.
When the engine is running, this gauge shows the condition of the charging system. The vehicle's charging system regulates voltage based on the state of charge of the battery. The voltmeter may fluctuate.
This is normal. Readings between the low and high warning zones indicate the normal operating range.
Readings in the low warning zone may occur when a large number of electrical accessories are operating in the vehicle and the engine is left idling for an extended period.
If there is a problem with the battery charging system, a SERVICE BATTERY CHARGING SYSTEM message will appear in the Driver Information Center (DIC) and/or the charging system light comes on.
See Battery Voltage and Charging Messages on page 5‑37 for more information.
However, readings in either warning zone may indicate a possible problem in the electrical system.
Have the vehicle serviced as soon as possible.
See also:
Radio Data System (RDS)
The Radio Data System (RDS) feature is available for use only on FM stations that broadcast RDS information. This system relies upon receiving specific information from these stations and only works w ...
Brake Adjustment
Every time the brakes are applied, with or without the vehicle moving, the brakes adjust for wear. ...
If the Vehicle Is Stuck
Slowly and cautiously spin the wheels to free the vehicle when stuck in sand, mud, ice, or snow. If the vehicle has a traction system, it can often help to free a stuck vehicle. Refer to the vehicle' ...