Manual Reclining Seatbacks
WARNING
You can lose control of the vehicle if you try to adjust a manual driver seat while the vehicle is moving. The sudden movement could startle and confuse you, or make you push a pedal when you do not want to.
Adjust the driver seat only when the vehicle is not moving.
WARNING
If either seatback is not locked, it could move forward in a sudden stop or crash. That could cause injury to the person sitting there.
Always push and pull on the seatbacks to be sure they are locked.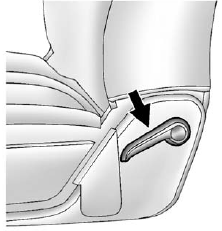 To recline the seatback:
1. Lift the lever.
2. Move the seatback to the desired position, and then release the lever to lock the seatback in place.
3. Push and pull on the seatback to make sure it is locked.
To return the seatback to the upright position:
1. Lift the lever fully without applying pressure to the seatback, and the seatback will return to the upright position.
2. Push and pull on the seatback to make sure it is locked.
See also:
Maintenance When Trailer Towing
The vehicle needs service more often when pulling a trailer. See this manual's Maintenance Schedule or Index for more information. Things that are especially important in trailer operation are ...
Universal Remote System
See Radio Frequency Statement on page 13‑22 for information regarding Part 15 of the Federal Communications Commission (FCC) rules and Industry Canada Standards RSS-GEN/210/220/310. ...
FM Stereo
FM signals only reach about 16 to 65 km (10 to 40 mi). Although the radio has a built-in electronic circuit that automatically works to reduce interference, some static can occur, especially around ta ...