Seat Adjustment
WARNING
You can lose control of the vehicle if you try to adjust a manual driver seat while the vehicle is moving. The sudden movement could startle and confuse you, or make you push a pedal when you do not want to.
Adjust the driver seat only when the vehicle is not moving.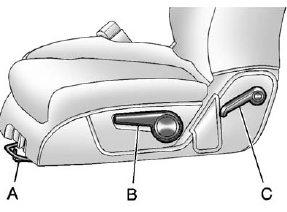 A. Seat Adjustment Handle
B. Driver Seat Height Adjustment Lever
C. Seatback Lever
To adjust a manual seat:
1. Lift the handle (A) under the seat to unlock it.
2. Slide the seat to the desired position, and then release the handle.
3. Try to move the seat back and forth to be sure it is locked in place.
Move the lever (B) up or down to raise or lower the seat.
Use the lever (C) to adjust the seatback. See Reclining Seatbacks on page 3‑5.
See also:
Vehicle Security
This vehicle has theft-deterrent features; however, they do not make it impossible to steal. ...
Off-Road Recovery
The vehicle's right wheels can drop off the edge of a road onto the shoulder while driving. Follow these tips: 1. Ease off the accelerator and then, if there is nothing in the way, steer the vehic ...
Trip Odometer Reset Stem Menu Items
ODOMETER Press the trip odometer reset stem until ODOMETER displays. This display shows the distance the vehicle has been driven in either kilometers (km) or miles (mi). To switch between English an ...