Roof
Sunroof
The ignition must be in ON/RUN or ACC/ACCESSORY to operate the sunroof and power sunshade.
See Retained Accessory Power (RAP) on page 9‑20.
The vehicle may have a sunroof over the front seats and a rear sunroof over the second row seats.
The rear sunroof does not open.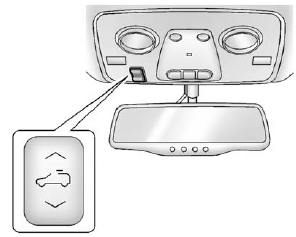 The switch to operate the front sunroof is on the headliner above the rearview mirror.
Vent: From the closed position, press and hold the front of the switch to vent the sunroof. Press and hold the rear of the switch to close the sunroof.
Express-open/Express-close:
From the closed position, press and release the rear of the switch to express-open the sunroof. Press and release the front of the switch to express-close the sunroof.
Manual Sunshade
The front sunshade must be opened and closed manually. To open the sunshade, press the button on the sunshade handle to release it and guide it back. To close the sunshade, pull the sunshade forward until it latches.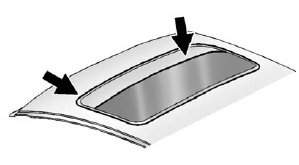 Dirt and debris may collect on the sunroof seal or in the track.
This could cause an issue with sunroof operation or noise.
It could also plug the water drainage system. Periodically open the sunroof and remove any obstacles or loose debris. Wipe the sunroof seal and roof sealing area using a clean cloth, mild soap, and water.
Do not remove grease from the sunroof.
See also:
How to Add Coolant to the Radiator
WARNING An electric engine cooling fan under the hood can start up even when the engine is not running and can cause injury. Keep hands, clothing, and tools away from any underhood electric fan. WAR ...
Drunk Driving
Death and injury associated with drinking and driving is a global tragedy. WARNING Drinking and then driving is very dangerous. Your reflexes, perceptions, attentiveness, and judgment can be affecte ...
How to Check Power Steering Fluid
Notice: Extremely small amounts of contamination can cause steering system damage and cause it to not work properly. Do not allow contaminants to contact the fluid side of the reservoir cap/dipstick ...