Blind Spot Mirrors
The blind spot mirror is a small convex mirror built into the upper and outer corner of both outside mirrors. It can show objects that may be in the vehicle's blind zone.
Driving with the Blind Spot Mirror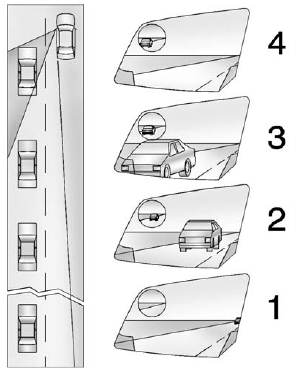 1. When the approaching vehicle is a long distance away, the image in the main mirror is small and near the inboard edge of the mirror.
2. As the vehicle gets closer, the image in the main mirror gets larger and moves outboard.
3. As the vehicle enters the blind zone, the image transitions from the main mirror to the blind spot mirror.
4. When the vehicle is in the blind zone, the image only appears in the blind spot mirror.
Using the Outside Mirror with the Blind Spot Mirror
1. Set the main mirror so that the side of the vehicle can just be seen and the blind spot mirror has an unobstructed view.
2. When checking for traffic or before changing a lane, look at the main driver/passenger side mirror to observe traffic in the adjacent lane, behind your vehicle. Check the blind spot mirror for a vehicle in the blind zone. Then, glance over your shoulder to double check before moving slowly into the adjacent lane.
See also:
Turning the System On and Off
The URPA system can be turned on and off using the rear park aid disable button located next to the radio. The indicator light comes on when the system is disabled and turns off when the system is ...
Wheel Alignment and Tire Balance
The tires and wheels were aligned and balanced at the factory to provide the longest tire life and best overall performance. Adjustments to wheel alignment and tire balancing will not be necessary on ...
Add-On Electrical Equipment
Notice: Do not add anything electrical to the vehicle unless you check with your dealer first. Some electrical equipment can damage the vehicle and the damage would not be covered by the vehicle's wa ...