Blind Spot Mirrors
The blind spot mirror is a small convex mirror built into the upper and outer corner of both outside mirrors. It can show objects that may be in the vehicle's blind zone.
Driving with the Blind Spot Mirror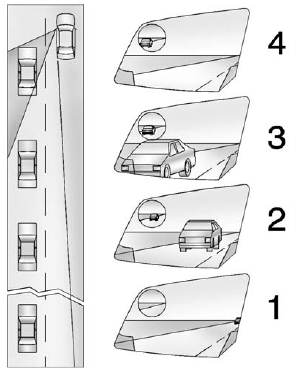 1. When the approaching vehicle is a long distance away, the image in the main mirror is small and near the inboard edge of the mirror.
2. As the vehicle gets closer, the image in the main mirror gets larger and moves outboard.
3. As the vehicle enters the blind zone, the image transitions from the main mirror to the blind spot mirror.
4. When the vehicle is in the blind zone, the image only appears in the blind spot mirror.
Using the Outside Mirror with the Blind Spot Mirror
1. Set the main mirror so that the side of the vehicle can just be seen and the blind spot mirror has an unobstructed view.
2. When checking for traffic or before changing a lane, look at the main driver/passenger side mirror to observe traffic in the adjacent lane, behind your vehicle. Check the blind spot mirror for a vehicle in the blind zone. Then, glance over your shoulder to double check before moving slowly into the adjacent lane.
See also:
When to Inspect the Engine Air Cleaner/Filter
Inspect or replace the air cleaner/ filter at the scheduled maintenance intervals. See Maintenance Schedule on page 11‑3 for more information. If driving in dusty/dirty conditions, inspect t ...
How to Check Power Steering Fluid
Notice: Extremely small amounts of contamination can cause steering system damage and cause it to not work properly. Do not allow contaminants to contact the fluid side of the reservoir cap/dipstick ...
2010 GMC Terrain Review by G. Chambers Williams III
Consumers can't seem to get enough of the all-new GMC Terrain compact crossover and its Chevrolet sibling, the Equinox. These fuel-efficient family vehicles are selling so well that the plant in ...