Manual Operation of Power Liftgate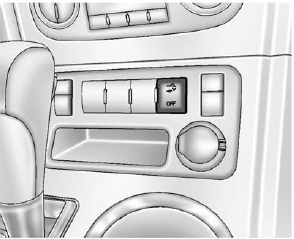 To change the liftgate to manual operation, press OFF on the power liftgate switch. A message displays on the DIC indicating manual operation mode. See Driver Information Center (DIC) (Without DIC Buttons) on page 5‑30 or Driver Information Center (DIC) (With DIC Buttons) on page 5‑25.
With the liftgate in manual mode and all of the doors unlocked, the liftgate can be manually opened and closed.
To open the liftgate, press the touch pad on the outside of the liftgate handle and lift up. Use the pull handle to lower and close the liftgate, the liftgate latch will power close.
Always close the liftgate before driving.
If

on the RKE transmitter or the

on the liftgate is pressed while in manual operation mode, the taillamps will flash three times, but the liftgate will not move.
It is not recommended to drive with the liftgate open. However, if the vehicle must be driven with the liftgate open, the liftgate should be set to manual operation.
See also:
Recreational Vehicle Towing
Recreational vehicle towing means towing the vehicle behind another vehicle – such as behind a motor home. The two most common types of recreational vehicle towing are known as dinghy towing and ...
Using the Outside Mirror with the Blind Spot Mirror
1. Set the main mirror so that the side of the vehicle can just be seen and the blind spot mirror has an unobstructed view. 2. When checking for traffic or before changing a lane, look at the main ...
If a Tire Goes Flat
It is unusual for a tire to blow out while driving, especially if the tires are maintained properly. If air goes out of a tire, it is much more likely to leak out slowly. But if there ever is a bl ...