Safety Locks
The vehicle has rear door security locks to prevent passengers from opening the rear doors from the inside.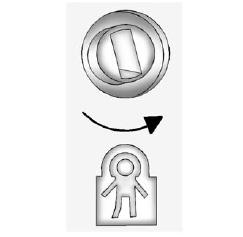 Open the rear doors to access the security locks on the inside edge of each door.
To set the locks, insert a key into the slot and turn it to the horizontal position. The door can only be opened from the outside with the door unlocked. To return the door to normal operation, turn the slot to the vertical position.
See also:
Traction Control System (TCS)
The vehicle has a Traction Control System (TCS) that limits wheel spin. On a front-wheel-drive vehicle, the system operates if it senses that one or both of the front wheels are spinning or beginn ...
Add-On Electrical Equipment
Notice: Do not add anything electrical to the vehicle unless you check with your dealer first. Some electrical equipment can damage the vehicle and the damage would not be covered by the vehicle ...
Bluetooth (Overview)
For vehicles equipped with the MyLink or IntelliLink infotainment system, see the separate MyLink/ IntelliLink Features and Functions Guide for more information. For vehicles equipped with Bluetoot ...