Safety Locks
The vehicle has rear door security locks to prevent passengers from opening the rear doors from the inside.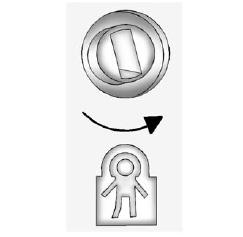 Open the rear doors to access the security locks on the inside edge of each door.
To set the locks, insert a key into the slot and turn it to the horizontal position. The door can only be opened from the outside with the door unlocked. To return the door to normal operation, turn the slot to the vertical position.
See also:
Danger, Warnings, and Cautions
Warning messages found on vehicle labels and in this manual describe hazards and what to do to avoid or reduce them. Danger indicates a hazard with a high level of risk which will result in serious i ...
MP3 Radios with a Single CD or a Single CD and DVD Player
To adjust the time and date: 1. Turn the ignition key to ACC/ ACCESSORY or ON/RUN, then press the button to turn the radio on. 2. Press the button to display HR, MIN, MM, DD, YYYY (hour, minute, m ...
Vehicle Reminder Messages
ICE POSSIBLE DRIVE WITH CARE This message is displayed when ice conditions are possible. TURN WIPER CONTROL TO INTERMITTENT FIRST This message is displayed when attempting to adjust the intermitten ...