Third Row Seats
The third row seatbacks can be folded forward, and the seats can be removed.
To fold the third row seatback:
1. Remove anything on or under the seat.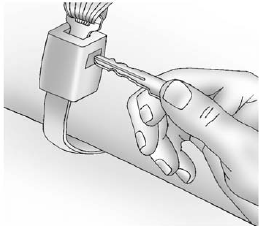 2. Disconnect the rear safety belt mini-latch using a key in the slot on the mini-buckle, and let the belt retract into the headliner.
Stow the mini-latch in the holder in the headliner.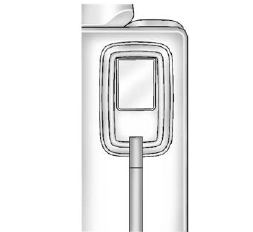 3. Pull up on the release lever on the back of the seat.
4. Push the seatback forward to lay flat.
See Third Row Seats on page 3‑12 for more information.
See also:
Off-Road Recovery
The vehicle's right wheels can drop off the edge of a road onto the shoulder while driving. Follow these tips: 1. Ease off the accelerator and then, if there is nothing in the way, steer the vehic ...
Cellular Phone Usage
Cellular phone usage can cause interference with the vehicle's radio. ...
Tire Inspection
We recommend that the tires, including the spare tire, if the vehicle has one, be inspected for signs of wear or damage at least once a month. Replace the tire if: ○ The indicators at three ...