Windows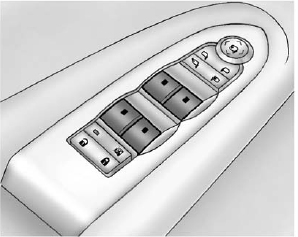 Press the switch to lower the window. Pull the switch up to raise it.
For more information, see Power Windows on page 2‑21.
See also:
Automatic Operation
The system automatically controls the fan speed, air delivery, air conditioning, and recirculation to heat or cool the vehicle to the selected temperature. When the AUTO indicator light is on, the ...
Tire Pressure
Tires need the correct amount of air pressure to operate effectively. Notice: Neither tire underinflation nor overinflation is good. Underinflated tires, or tires that do not have enough air, can re ...
Customer Assistance for Text Telephone (TTY) Users (U.S. and Canada)
To assist customers who are deaf, hard of hearing, or speech impaired and who use Text Telephones (TTYs), GMC has TTY equipment available at its Customer Assistance Center. Any TTY user can communicat ...