Windows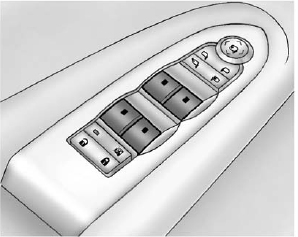 Press the switch to lower the window. Pull the switch up to raise it.
For more information, see Power Windows on page 2‑21.
See also:
Cargo Cover
For vehicles with a cargo cover, it can be used to cover items in the rear of the vehicle. To install the cover, place the loops on each corner of the cover on the four hooks in the rear of the vehicl ...
Headlamps, Front Turn Signal, Sidemarker, and Parking Lamps
A. Side Marker Lamp B. Low-Beam Headlamp C. High-Beam Headlamp D. Park/Turn Signal Lamp 1. Open the hood. See Hood on page 10‑5 2. If you are replacing the bulb on the passenger side, remo ...
Parental Control
The RSE system may have a Parental Control feature, depending on which radio the vehicle has. To start Parental Control, press and hold the radio power button for more than two seconds to stop all sys ...