Fog Lamps
To replace one of these bulbs: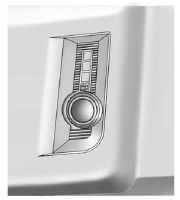 1. Locate the fog lamp assembly under the front facia.
2. Disconnect the bulb socket from the electrical connector, turn, and pull out the bulb assembly.
3. Remove the old bulb from the bulb socket and push the new bulb straight into the bulb socket until it connects.
4. Push the bulb socket into the fog lamp assembly and turn clockwise to lock it into place.
5. Reconnect the bulb socket to the electrical connector.
See also:
California Perchlorate Materials Requirements
Certain types of automotive applications, such as airbag initiators, safety belt pretensioners, and lithium batteries contained in Remote Keyless Entry transmitters, may contain perchlorate materials. ...
Recommended Fuel
Use regular unleaded gasoline with a posted octane rating of 87 or higher. If the octane rating is less than 87, an audible knocking noise, commonly referred to as spark knock, might be heard when ...
Tailgate
WARNING It is extremely dangerous to ride on the tailgate, even when the vehicle is operated at low speeds. People riding on the tailgate can easily lose their balance and fall in response to vehicl ...