Rear Wiper Blade Replacement
The rear wiper blade and wiper arm have a cover for protection. The cover must be removed before the wiper blade can be replaced. To remove the cover:

1. Slide a plastic tool under the cover and push upward to unsnap.
2. Slide the cover towards the wiper blade tip to unhook it from the blade assembly.
3. Remove the cover.
4. After wiper blade replacement, ensure that cover hook slides into the slot in the blade assembly.
5. Snap the cover down to secure.
To remove the wiper blade:
1. Lift the wiper arm away from the windshield.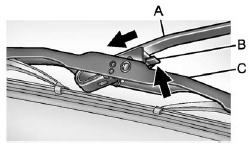 A. Wiper Arm
B. Release Lever
C. Blade Assembly
2. Push the release lever (B) to disengage the hook and push the wiper arm (A) out of the blade assembly (C).
3. Push the new blade assembly securely on the wiper arm until the release lever clicks into place.
4. Replace the wiper cover.
See also:
Engine Hour Meter Display
The Driver Information Center (DIC) can also display the number of hours the engine has run. To display the engine hours, turn the ignition off, then press and hold the reset button for at least four ...
Service Vehicle Messages
SERVICE AC SYSTEM This message is displayed if there is a problem with the air conditioning system. Take the vehicle to your dealer for service. SERVICE POWER STEERING This message is displayed i ...
Tow/Haul Mode
Pressing this button at the end of the shift lever turns on and off the Tow/Haul Mode. This indicator light on the instrument panel cluster comes on when the Tow/Haul Mode is on. Tow/Haul is a f ...