Rear Wiper Blade Replacement
The rear wiper blade and wiper arm have a cover for protection. The cover must be removed before the wiper blade can be replaced. To remove the cover:

1. Slide a plastic tool under the cover and push upward to unsnap.
2. Slide the cover towards the wiper blade tip to unhook it from the blade assembly.
3. Remove the cover.
4. After wiper blade replacement, ensure that cover hook slides into the slot in the blade assembly.
5. Snap the cover down to secure.
To remove the wiper blade:
1. Lift the wiper arm away from the windshield.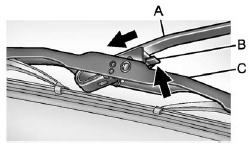 A. Wiper Arm
B. Release Lever
C. Blade Assembly
2. Push the release lever (B) to disengage the hook and push the wiper arm (A) out of the blade assembly (C).
3. Push the new blade assembly securely on the wiper arm until the release lever clicks into place.
4. Replace the wiper cover.
See also:
Navigation System
If the vehicle has a navigation system, there is a separate navigation system manual that includes information on the radio, audio players, and navigation system. The navigation system provides detai ...
Overheated Engine Protection Operating Mode
If an overheated engine condition exists and the ENGINE POWER IS REDUCED message displays, an overheat protection mode which alternates firing groups of cylinders helps to prevent engine damage. In th ...
MP3-Supported Files
The Radio with CD (MP3), Radio with USB and CD (MP3), and Radio with USB and Six-Disc CD (MP3) have the capability of playing an MP3 CD-R or CD-RW disc. Format Radios that have the capability of pla ...