Rear Wiper Blade Replacement
The rear wiper blade and wiper arm have a cover for protection. The cover must be removed before the wiper blade can be replaced. To remove the cover:

1. Slide a plastic tool under the cover and push upward to unsnap.
2. Slide the cover towards the wiper blade tip to unhook it from the blade assembly.
3. Remove the cover.
4. After wiper blade replacement, ensure that cover hook slides into the slot in the blade assembly.
5. Snap the cover down to secure.
To remove the wiper blade:
1. Lift the wiper arm away from the windshield.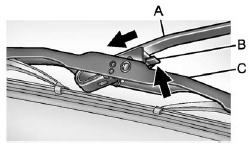 A. Wiper Arm
B. Release Lever
C. Blade Assembly
2. Push the release lever (B) to disengage the hook and push the wiper arm (A) out of the blade assembly (C).
3. Push the new blade assembly securely on the wiper arm until the release lever clicks into place.
4. Replace the wiper cover.
See also:
If No Steam Is Coming from the Engine Compartment
If an engine overheat warning is displayed but no steam can be seen or heard, the problem may not be too serious. Sometimes the engine can get a little too hot when the vehicle: • Climbs a long hil ...
Accessories and Modifications
Adding non-dealer accessories or making modifications to the vehicle can affect vehicle performance and safety, including such things as airbags, braking, stability, ride and handling, emissions s ...
Extending Engine Run Time
To extend the engine run time by 10 minutes, repeat Steps 1 through 3 while the engine is still running. The engine run time can only be extended if it is the first remote start since the vehicle has ...