Rear Wiper Blade Replacement
The rear wiper blade and wiper arm have a cover for protection. The cover must be removed before the wiper blade can be replaced. To remove the cover:

1. Slide a plastic tool under the cover and push upward to unsnap.
2. Slide the cover towards the wiper blade tip to unhook it from the blade assembly.
3. Remove the cover.
4. After wiper blade replacement, ensure that cover hook slides into the slot in the blade assembly.
5. Snap the cover down to secure.
To remove the wiper blade:
1. Lift the wiper arm away from the windshield.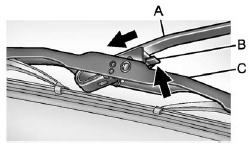 A. Wiper Arm
B. Release Lever
C. Blade Assembly
2. Push the release lever (B) to disengage the hook and push the wiper arm (A) out of the blade assembly (C).
3. Push the new blade assembly securely on the wiper arm until the release lever clicks into place.
4. Replace the wiper cover.
See also:
How to Check
Use a good quality pocket-type gauge to check tire pressure. Proper tire inflation cannot be determined by looking at the tire. Check the tire inflation pressure when the tires are cold, meaning t ...
Compass
The vehicle may have a compass display on the Driver Information Center (DIC). The compass receives its heading and other information from the Global Positioning System (GPS) antenna, StabiliTrak, ...
Radio Messages
Calibration Error: The audio system has been calibrated for the vehicle from the factory. If Calibration Error displays, it means that the radio has not been configured properly for the vehicle and i ...