Rear Wiper Blade Replacement
The rear wiper blade and wiper arm have a cover for protection. The cover must be removed before the wiper blade can be replaced. To remove the cover:

1. Slide a plastic tool under the cover and push upward to unsnap.
2. Slide the cover towards the wiper blade tip to unhook it from the blade assembly.
3. Remove the cover.
4. After wiper blade replacement, ensure that cover hook slides into the slot in the blade assembly.
5. Snap the cover down to secure.
To remove the wiper blade:
1. Lift the wiper arm away from the windshield.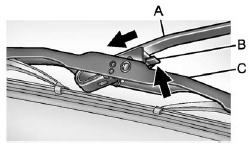 A. Wiper Arm
B. Release Lever
C. Blade Assembly
2. Push the release lever (B) to disengage the hook and push the wiper arm (A) out of the blade assembly (C).
3. Push the new blade assembly securely on the wiper arm until the release lever clicks into place.
4. Replace the wiper cover.
See also:
Steering, Suspension, and Chassis Components
Visually inspect front and rear suspension and steering system for damaged, loose, or missing parts or signs of wear. Inspect power steering lines and hoses for proper hook-up, binding, leaks, cra ...
EXTERIOR
The Acadia Denali can be compared to your favorite pair of jeans. It looks great, flatters your features and is durable enough to stand up to the day-to-day rigors of real life. Fog lights and d ...
What to Use
WARNING Adding only plain water or some other liquid to the cooling system can be dangerous. Plain water and other liquids, can boil before the proper coolant mixture will. The coolant warning syste ...