Front Wiper Blade Replacement
To replace the front wiper blades:
1. Lift the wiper arm from the windshield until no further movement is possible.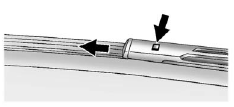 2. Press the square button on the top side, at the end of the wiper arm, and pull the wiper blade out of the end of the wiper arm.
3. Install the wiper blade connector by sliding into the end of the wiper arm until the square button on the wiper blade clicks into place with the wiper arm.
4. Place the wiper arm with the wiper blade in place back on the windshield.
See also:
If No Steam is Coming from the Engine Compartment
The ENGINE OVERHEATED STOP ENGINE or the ENGINE OVERHEATED IDLE ENGINE message, along with a low coolant condition, can indicate a serious problem. If there is an engine overheat warning, but no stea ...
Recommended Fuel
Use regular unleaded gasoline with a posted octane rating of 87 or higher. If the octane rating is less than 87, an audible knocking noise, commonly referred to as spark knock, might be heard when dri ...
With Passenger Sensing System
This vehicle has airbags. A rear seat is a safer place to secure a forward-facing child restraint. See Where to Put the Restraint on page 3‑49. In addition, the vehicle may have a passenger sen ...