How to Check Lubricant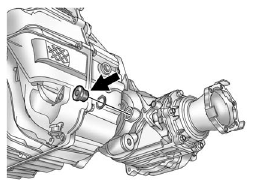 To get an accurate reading, the vehicle should be on a level surface.
If the level is below the bottom of the fill plug hole, located on the transfer case, the vehicle will need some lubricant added. Add enough lubricant to raise the level to the bottom of the fill plug hole. A fluid loss could indicate a problem; check and have it repaired, if needed.
What to Use
Refer to Recommended Fluids and Lubricants on page 11‑12 to determine what kind of lubricant to use.
See also:
Consistency of Readings
Always check the fluid level at least twice using the procedure described previously. Consistency (repeatable readings) is important to maintaining proper fluid level. If readings are still inconsiste ...
Brake Fluid
The brake master cylinder reservoir is filled with DOT 3 brake fluid as indicated on the reservoir cap. See Engine Compartment Overview on page 10‑6 for the location of the reservoir. The ...
Immobilizer Operation
This vehicle has PASS-KeyВ® III+ (Personalized Automotive Security System) theft-deterrent system. PASS-Key III+ is a passive theft-deterrent system. The system is automatically armed when the key i ...