How to Check Lubricant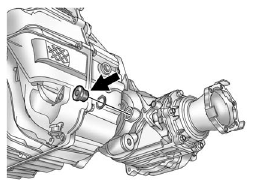 To get an accurate reading, the vehicle should be on a level surface.
If the level is below the bottom of the fill plug hole, located on the transfer case, the vehicle will need some lubricant added. Add enough lubricant to raise the level to the bottom of the fill plug hole. A fluid loss could indicate a problem; check and have it repaired, if needed.
What to Use
Refer to Recommended Fluids and Lubricants on page 11‑12 to determine what kind of lubricant to use.
See also:
Tachometer
The tachometer displays the engine speed in revolutions per minute (rpm). ...
Steering Wheel Controls
Vehicles with audio steering wheel controls could differ depending on the vehicle's options. Some audio controls can be adjusted at the steering wheel. and (Next/Previous): Press to select pres ...
Cold Check Procedure
Use this procedure only as a reference to determine if the transmission has enough fluid to be operated safely until a hot check procedure can be made. The hot check procedure is the most accurate met ...