How to Check Lubricant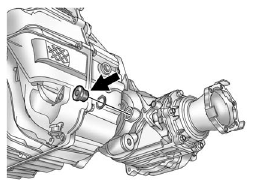 To get an accurate reading, the vehicle should be on a level surface.
If the level is below the bottom of the fill plug hole, located on the transfer case, the vehicle will need some lubricant added. Add enough lubricant to raise the level to the bottom of the fill plug hole. A fluid loss could indicate a problem; check and have it repaired, if needed.
What to Use
Refer to Recommended Fluids and Lubricants on page 11‑12 to determine what kind of lubricant to use.
See also:
Going & Stopping
The biggest drawback I found with the Yukon was the powertrain. A 380-horsepower, 6.2-liter V-8 is standard in the Denali, but it was sluggish in almost every passing situation I could simulate. T ...
General Information
Your vehicle is an important investment. This section describes the required maintenance for the vehicle. Follow this schedule to help protect against major repair expenses resulting from neglect ...
Onstar.com
The website provides access to account information, manages the OnStar subscription, and allows viewing of videos of each service. Get subscription plan pricing and sign up for OnStar Vehicle Diagnos ...