How to Inspect the Engine Air Cleaner/Filter
To inspect the air cleaner/filter, remove the filter from the vehicle and lightly shake the filter to release loose dust and dirt. If the filter remains covered with dirt, a new filter is required. Never use compressed air to clean the filter.
To inspect or replace the engine air cleaner/filter:
1. Open the hood. See Hood on page 10‑5.
2. Locate the air filter housing on the passenger side of the engine compartment. See Engine Compartment Overview on page 10‑6.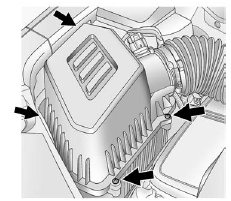 3. Remove the four air cleaner housing cover screws.
4. Pull straight up on the cover, and while holding the cover, remove the air cleaner filter.
5. Inspect or replace the air cleaner filter.
See also:
When It Is Time for New Tires
Factors such as maintenance, temperatures, driving speeds, vehicle loading, and road conditions affect the wear rate of the tires. Treadwear indicators are one way to tell when it is time for new ...
Making Turns
Notice: Making very sharp turns while trailering could cause the trailer to come in contact with the vehicle. The vehicle could be damaged. Avoid making very sharp turns while trailering. When turnin ...
Gasoline Specifications (U.S. and Canada Only)
At a minimum, gasoline should meet ASTM specification D 4814 in the United States or CAN/CGSB-3.5 or 3.511 in Canada. Some gasolines contain an octane-enhancing additive called methylcyclopentadienyl ...