Fuel
Use of the recommended fuel is an important part of the proper maintenance of this vehicle. To help keep the engine clean and maintain optimum vehicle performance, we recommend the use of gasoline advertised as TOP TIER Detergent Gasoline.
Look for the TOP TIER label on the fuel pump to ensure gasoline meets enhanced detergency standards developed by auto companies. A list of marketers providing TOP TIER Detergent Gasoline can be found at www.toptiergas.com.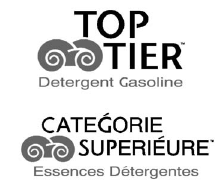 Vehicles that have a FlexFuel badge and a yellow fuel cap can use either unleaded gasoline or ethanol fuel containing up to 85% ethanol (E85). See Fuel E85 (85% Ethanol) on page 9‑53. For all other vehicles, use only the unleaded gasoline described under Recommended Fuel on page 9‑51.
See also:
Convenience Net
This vehicle may have a convenience net located in the rear of the vehicle. Attach it to the cargo tie&-downs for storing small loads. Do not use the net to store heavy loads. ...
Lamps
Properly working headlamps, taillamps, and brake lamps are important to see and be seen on the road. • Signs that the headlamps need attention include dimming, failure to light, cracking, or damage ...
Storing the Flat Tire
1. Remove the cable package from the jack storage area. 2. Remove the small center cap by tapping the back of the cap with the extension of the shaft, if the vehicle has aluminum wheels. 3. Put the ...