Fuel
Use of the recommended fuel is an important part of the proper maintenance of this vehicle. To help keep the engine clean and maintain optimum vehicle performance, we recommend the use of gasoline advertised as TOP TIER Detergent Gasoline.
Look for the TOP TIER label on the fuel pump to ensure gasoline meets enhanced detergency standards developed by auto companies. A list of marketers providing TOP TIER Detergent Gasoline can be found at www.toptiergas.com.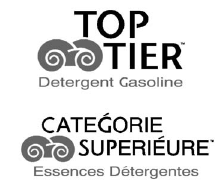 Vehicles that have a FlexFuel badge and a yellow fuel cap can use either unleaded gasoline or ethanol fuel containing up to 85% ethanol (E85). See Fuel E85 (85% Ethanol) on page 9‑53. For all other vehicles, use only the unleaded gasoline described under Recommended Fuel on page 9‑51.
See also:
Floor Mats
WARNING If a floor mat is the wrong size or is not properly installed, it can interfere with the pedals. Interference with the pedals can cause unintended acceleration and/or increased stopping dist ...
Battery Power Protection
This feature shuts off the dome and reading lamps, if they are left on for more than 10 minutes after the ignition is turned off. The cargo lamp shuts off after 20 minutes. This prevents the battery f ...
Convenience Net
This vehicle may have a convenience net located in the rear of the vehicle. Attach it to the cargo tie&-downs for storing small loads. Do not use the net to store heavy loads. ...