Off-Road Recovery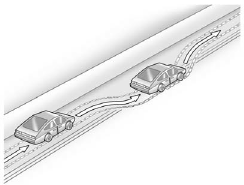 The vehicle's right wheels can drop off the edge of a road onto the shoulder while driving. Follow these tips:
1. Ease off the accelerator and then, if there is nothing in the way, steer the vehicle so that it straddles the edge of the pavement.
2. Turn the steering wheel about one-eighth of a turn, until the right front tire contacts the pavement edge.
3. Then turn the steering wheel to go straight down the roadway.
See also:
Safety Belt Extender
If the vehicle's safety belt will fasten around you, you should use it. But if a safety belt is not long enough, your dealer will order you an extender. When you go in to order it, take the heaviest ...
Shifting Into Four-Wheel Drive High or AUTO (Automatic Four-Wheel Drive)
Turn the knob to the Four-Wheel Drive High or AUTO position. This can be done at any speed, except when shifting from Four-Wheel Drive Low. The indicator light will flash while shifting. It will remai ...
Infotainment
Determine which radio the vehicle has and read the following pages to become familiar with its features. WARNING Taking your eyes off the road for extended periods could cause a crash resulting in i ...