Passenger Compartment Air Filter
The filter removes dust, pollen, and other airborne irritants from outside air that is pulled into the vehicle.
The filter should be replaced as part of routine scheduled maintenance. See Maintenance Schedule on page 11‑3 for replacement intervals. To find out what type of filter to use, see Maintenance Replacement Parts on page 11‑14.
The passenger compartment air filter can be accessed by removing the entire glove box.
1. Open the glove box completely and locate the stop tab on top of the glove box door.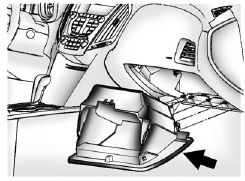 2. Push the stop tab upwards until the stop tab is under the instrument panel assembly and the glove box is released.
3. Unsnap the tabs beneath the glove box that connects it to the bottom of the instrument panel assembly.
4. Remove the glove box.
5. Locate the service door for the passenger compartment air filter.
6. Push the two tabs upwards and release the latches holding the service door. Lift the service door.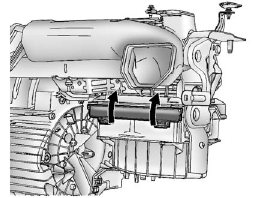 7. Remove the old air filter.
8. Install the new air filter.
9. Close the service door and latches.
10. Re-install the glove box.
See your dealer if additional assistance is needed.
See also:
Airbag System Check
The airbag system does not need regularly scheduled maintenance or replacement. Make sure the airbag readiness light is working. See Airbag Readiness Light on page 5‑20 for more information. No ...
Format
Radios that have the capability of playing MP3s can play.mp3 or .wma files that were recorded onto a CD-R or CD-RW disc. The files can be recorded with the following fixed bit rates: 32 kbps, 40 kbps, ...
Headlamp Wiring
An electrical overload may cause the lamps to go on and off, or in some cases to remain off. Have the headlamp wiring checked right away if the lamps go on and off or remain off. ...