Turn and Lane-Change Signals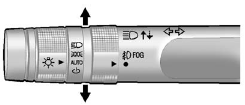 An arrow on the instrument panel cluster will flash in the direction of the turn or lane change.
Move the lever all the way up or down to signal a turn.
Raise or lower the lever until the arrow starts to flash to signal a lane change. Hold it there until the lane change is complete. If the lever is briefly pressed and released, the turn signal flashes three times.
The lever returns to its starting position when it is released.
If after signaling a turn or a lane change the arrows flash rapidly or do not come on, a signal bulb may be burned out.
Have the bulbs replaced. If the bulb is not burned out, check the fuse; see Fuses on page 10‑38 for more information.
See also:
Highway Hypnosis
Always be alert and pay attention to your surroundings while driving. If you become tired or sleepy, find a safe place to park the vehicle and rest. Other driving tips include: • Keep the vehicle ...
Window Lockout
(Window Lockout): This feature prevents the rear passenger windows from operating, except from the driver position. Press to activate the rear window lockout switch. The LED light comes on whe ...
Transportation Options
Warranty service can generally be completed while you wait. However, if you are unable to wait, GM helps to minimize inconvenience by providing several transportation options. Depending on the circums ...