DIC Buttons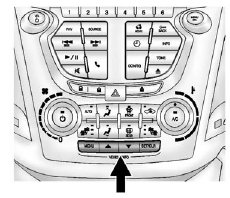 MENU: Press this button to get to the Trip/Fuel Menu and the Vehicle Information Menu.

: Use these buttons to scroll through the items in each menu. A small marker will move along the page as you scroll through the items. This shows where each page is in the menu.
SET/CLR (Set/Clear): Use this button to set or clear the menu item when it is displayed.
See also:
Infants and Young Children
Everyone in a vehicle needs protection! This includes infants and all other children. Neither the distance traveled nor the age and size of the traveler changes the need, for everyone, to use safety r ...
Tire Size
The following is an example of a typical passenger vehicle tire size. (A) Passenger (P&-Metric) Tire: The United States version of a metric tire sizing system. The letter P as the first chara ...
Trailer Brakes
Does the trailer have its own brakes? Be sure to read and follow the instructions for the trailer brakes so they are installed, adjusted, and maintained properly. Because the vehicle has antilock b ...