Brake System Warning
Light

The vehicle brake system consists of two hydraulic circuits. If one circuit is not working, the remaining circuit can still work to stop the vehicle. For normal braking performance, both circuits need to be working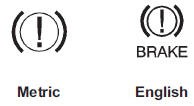 The brake indicator light should come on briefly as the engine is started. If it does not come on have the vehicle serviced by your dealer. When the ignition is on, the brake system warning light comes on when the parking brake is set. The light stays on if the parking brake does not fully release. If it stays on after the parking brake is fully released, there is a brake problem. Have the brake system inspected immediately.
WARNING
The brake system might not be working properly if the brake system warning light is on. Driving with the brake system warning light on can lead to a crash. If the light is still on after the vehicle has been pulled off the road and carefully stopped, have the vehicle towed for service.
If the light comes on while driving, a chime sounds. Pull off the road and stop. The pedal might be harder to push or go closer to the floor. It might also take longer to stop. If the light is still on, have the vehicle towed for service. See Towing the Vehicle on page 10‑79.
See also:
Automatic Headlamp System
When it is dark enough outside, the headlamps come on automatically. Do not cover the light sensor on top of the instrument panel or the headlamps will come on when they are not needed. The syst ...
Checking Engine Oil
It is a good idea to check the engine oil level at each fuel fill. In order to get an accurate reading, the vehicle must be on level ground. The engine oil dipstick handle is a yellow loop. See Engi ...
Tachometer
The tachometer displays the engine speed in revolutions per minute (rpm). ...