Brake System Warning
Light

The vehicle brake system consists of two hydraulic circuits. If one circuit is not working, the remaining circuit can still work to stop the vehicle. For normal braking performance, both circuits need to be working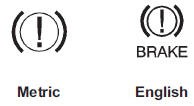 The brake indicator light should come on briefly as the engine is started. If it does not come on have the vehicle serviced by your dealer. When the ignition is on, the brake system warning light comes on when the parking brake is set. The light stays on if the parking brake does not fully release. If it stays on after the parking brake is fully released, there is a brake problem. Have the brake system inspected immediately.
WARNING
The brake system might not be working properly if the brake system warning light is on. Driving with the brake system warning light on can lead to a crash. If the light is still on after the vehicle has been pulled off the road and carefully stopped, have the vehicle towed for service.
If the light comes on while driving, a chime sounds. Pull off the road and stop. The pedal might be harder to push or go closer to the floor. It might also take longer to stop. If the light is still on, have the vehicle towed for service. See Towing the Vehicle on page 10‑79.
See also:
Power Steering Fluid (3.0L V6 Engine)
The power steering fluid reservoir is located toward the rear of the engine compartment on the passenger side of the vehicle. See Engine Compartment Overview on page 10‑6 for reservoir loc ...
When Should an Airbag Inflate?
Frontal airbags are designed to inflate in moderate to severe frontal or near-frontal crashes to help reduce the potential for severe injuries mainly to the driver's or right front passenger's head an ...
Manual Operation
The air delivery mode or fan speed can be manually adjusted. (Fan Control): Press to increase or decrease the fan speed. Pressing or while in automatic control places the fan speed under manual ...