Power Reclining Seatbacks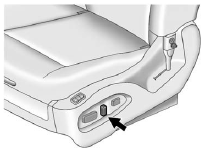 To adjust a power seatback, if available:
○ Tilt the top of the control rearward to recline.
○ Tilt the top of the control forward to raise.
See also:
Bulb Replacement
For the proper type of replacement bulbs, see Replacement Bulbs on page 10‑37. For any bulb changing procedure not listed in this section, contact your dealer. ...
Pairing
A Bluetooth enabled cell phone must be paired to the Bluetooth system and then connected to the vehicle before it can be used. See the cell phone manufacturer's user guide for Bluetooth functions bef ...
Cellular Phone Usage
Cellular phone usage can cause interference with the vehicle's radio. ...