Manual Reclining Seatbacks
WARNING
You can lose control of the vehicle if you try to adjust a manual driver seat while the vehicle is moving. The sudden movement could startle and confuse you, or make you push a pedal when you do not want to. Adjust the driver seat only when the vehicle is not moving.
WARNING
If either seatback is not locked, it could move forward in a sudden stop or crash. That could cause injury to the person sitting there. Always push and pull on the seatbacks to be sure they are locked.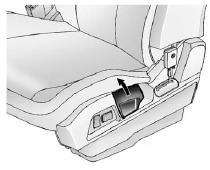 To recline a manual seatback:
1. Lift the lever.
2. Move the seatback to the desired position, and then release the lever to lock the seatback in place.
3. Push and pull on the seatback to make sure it is locked.
To return the seatback to the upright position:
1. Lift the lever fully without applying pressure to the seatback, and the seatback will return to the upright position.
2. Push and pull on the seatback to make sure it is locked.
See also:
Engine Coolant Temperature Gauge
Metric English This gauge measures the temperature of the vehicle's engine. If the indicator needle moves to the hot side of the gauge toward the colored line, the engine is too hot. If ...
Managing the Vehicle Damage Repair Process
In the event that the vehicle requires damage repairs, GM recommends that you take an active role in its repair. If you have a pre-determined repair facility of choice, take the vehicle there, or have ...
Exterior
Painted black and trimmed in chrome, my Yukon Denali test vehicle looked more like its Escalade corporate cousin than a tough truck. The Yukon is probably the safest-looking of the three siblings, ...