Manual Reclining Seatbacks
WARNING
You can lose control of the vehicle if you try to adjust a manual driver seat while the vehicle is moving. The sudden movement could startle and confuse you, or make you push a pedal when you do not want to. Adjust the driver seat only when the vehicle is not moving.
WARNING
If either seatback is not locked, it could move forward in a sudden stop or crash. That could cause injury to the person sitting there. Always push and pull on the seatbacks to be sure they are locked.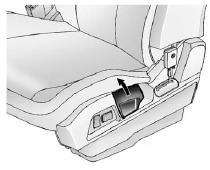 To recline a manual seatback:
1. Lift the lever.
2. Move the seatback to the desired position, and then release the lever to lock the seatback in place.
3. Push and pull on the seatback to make sure it is locked.
To return the seatback to the upright position:
1. Lift the lever fully without applying pressure to the seatback, and the seatback will return to the upright position.
2. Push and pull on the seatback to make sure it is locked.
See also:
Securing Child Restraints (Front Passenger Seat)
This vehicle has airbags. A rear seat is a safer place to secure a forward-facing child restraint. See Where to Put the Restraint on page 3‑41. In addition, the vehicle has a passenger sensin ...
Security Light
The security light should come on briefly as the engine is started. If the system is working normally, the indicator light turns off. If it does not come on, have the vehicle serviced by your deale ...
Door Ajar Messages
DOOR OPEN A door open symbol will be displayed on the DIC showing which door is open. If the vehicle has been shifted out of P (Park), a DOOR OPEN message will also be displayed. Close the door c ...