Manual Reclining Seatbacks
WARNING
You can lose control of the vehicle if you try to adjust a manual driver seat while the vehicle is moving. The sudden movement could startle and confuse you, or make you push a pedal when you do not want to. Adjust the driver seat only when the vehicle is not moving.
WARNING
If either seatback is not locked, it could move forward in a sudden stop or crash. That could cause injury to the person sitting there. Always push and pull on the seatbacks to be sure they are locked.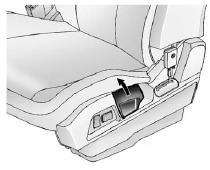 To recline a manual seatback:
1. Lift the lever.
2. Move the seatback to the desired position, and then release the lever to lock the seatback in place.
3. Push and pull on the seatback to make sure it is locked.
To return the seatback to the upright position:
1. Lift the lever fully without applying pressure to the seatback, and the seatback will return to the upright position.
2. Push and pull on the seatback to make sure it is locked.
See also:
Potential Issues
Some OnStar services are disabled after five days. OnStar cannot perform Remote Door Unlock or Stolen Vehicle Assistance after the vehicle has been off continuously for five days. After five days, OnS ...
Manual Rearview Mirror
Hold the mirror in the center to move it for a clearer view of behind your vehicle. Adjust the mirror to avoid glare from the headlamps behind you. Push the tab at the bottom of the mirror forward for ...
Rear Towing (Rear Wheels Off the Ground)
Two-Wheel-Drive Vehicles Use the following procedure to dolly tow a two-wheel-drive vehicle from the rear: 1. Attach the dolly to the tow vehicle following the dolly manufacturer's instructions. ...