Manual Reclining Seatbacks
WARNING
You can lose control of the vehicle if you try to adjust a manual driver seat while the vehicle is moving. The sudden movement could startle and confuse you, or make you push a pedal when you do not want to. Adjust the driver seat only when the vehicle is not moving.
WARNING
If either seatback is not locked, it could move forward in a sudden stop or crash. That could cause injury to the person sitting there. Always push and pull on the seatbacks to be sure they are locked.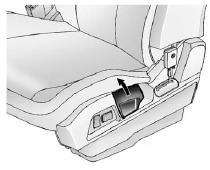 To recline a manual seatback:
1. Lift the lever.
2. Move the seatback to the desired position, and then release the lever to lock the seatback in place.
3. Push and pull on the seatback to make sure it is locked.
To return the seatback to the upright position:
1. Lift the lever fully without applying pressure to the seatback, and the seatback will return to the upright position.
2. Push and pull on the seatback to make sure it is locked.
See also:
Fuel Economy Light
For vehicles with the fuel economy mode light, it comes on when the eco (economy) switch, located on the center console near the shifter, is pressed. For vehicles with a Driver Information Cente ...
Antilock Brake System (ABS) Warning Light
The ABS warning light comes on briefly when the ignition key is turned to ON/RUN. This is normal. If the light does not come on then, have it fixed so it will be ready to warn you if there is a pro ...
Driver and Passenger Side Temperature Controls
The driver and passenger side temperature buttons are used to adjust the temperature of the air coming through the system on the driver or passenger side of the vehicle. The temperature can be adjuste ...