Driving with the Blind Spot Mirror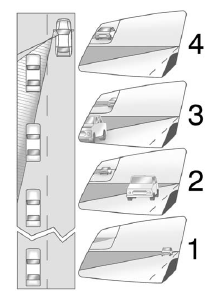 Actual Mirror View
1. When the approaching vehicle is a long distance away, the image in the main mirror is small and near the inboard edge of the mirror.
2. As the vehicle gets closer, the image in the main mirror gets larger and moves outboard.
3. As the vehicle enters the blind zone, the image transitions from the main mirror to the blind spot mirror.
4. When the vehicle is in the blind zone, the image only appears in the blind spot mirror.
See also:
Temperature – A, B, C
The temperature grades are A (the highest), B, and C, representing the tire's resistance to the generation of heat and its ability to dissipate heat when tested under controlled conditions on a specif ...
Passenger Airbag Status Indicator
If the vehicle has one of the indicators pictured in the following illustrations, then the vehicle has a passenger sensing system for the right front passenger position unless there is an airbag off s ...
Using the USB Port
For vehicles with a USB port, the connector is located in the instrument panel storage area. See Instrument Panel Storage on page 4‑1 for more information. Radios with a USB port can control a ...