Driving with the Blind Spot Mirror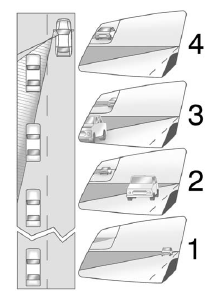 Actual Mirror View
1. When the approaching vehicle is a long distance away, the image in the main mirror is small and near the inboard edge of the mirror.
2. As the vehicle gets closer, the image in the main mirror gets larger and moves outboard.
3. As the vehicle enters the blind zone, the image transitions from the main mirror to the blind spot mirror.
4. When the vehicle is in the blind zone, the image only appears in the blind spot mirror.
See also:
Remote Start Heated Seats
When it is cold outside, the heated seats can be programmed to turn on automatically during a remote vehicle start. The heated seats will be canceled when the ignition is turned on. Press the heat ...
Parking over Things That Burn
WARNING Things that can burn could touch hot exhaust parts under the vehicle and ignite. Do not park over papers, leaves, dry grass, or other things that can burn. ...
Securing an Add-On Child Restraint in the Vehicle
WARNING A child can be seriously injured or killed in a crash if the child restraint is not properly secured in the vehicle. Secure the child restraint properly in the vehicle using the vehicle safet ...