Rear Towing (Rear Wheels Off the Ground)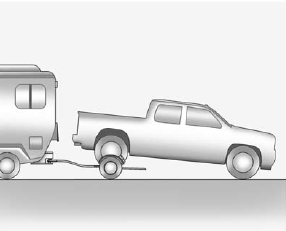 Two-Wheel-Drive Vehicles
Use the following procedure to dolly tow a two-wheel-drive vehicle from the rear:
1. Attach the dolly to the tow vehicle following the dolly manufacturer's instructions.
2. Drive the rear wheels onto the dolly.
3. Firmly set the parking brake.
See Parking Brake on page 9‑58.
4. Put the transmission in P (Park).
5. Secure the vehicle to the dolly following the manufacturer's instructions.
6. Use an adequate clamping device designed for towing to ensure that the front wheels are locked into the straight position.
7. Turn the ignition to LOCK/OFF.
See also:
Electric Trailer Brake Control Wiring Provisions
These wiring provisions for an electric trailer brake controller are included with the vehicle as part of the trailer wiring package. The instrument panel contains blunt cut wires behind the steering ...
When to Check Power Steering Fluid
The power steering fluid does not need to be checked unless there is a leak in the system or you hear an unusual noise. Have the system inspected and repaired if there is a fluid loss. ...
Two-Tiered Loading
Depending on the model of your pick-up, an upper load platform can be created by positioning three or four 5 cm (2 inches) by 15 cm (6 inches) wooden planks across the width of the pickup box. The pla ...