Rear Towing (Rear Wheels Off the Ground)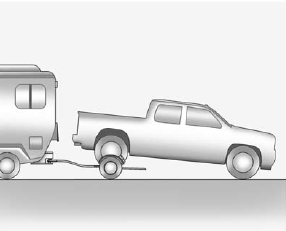 Two-Wheel-Drive Vehicles
Use the following procedure to dolly tow a two-wheel-drive vehicle from the rear:
1. Attach the dolly to the tow vehicle following the dolly manufacturer's instructions.
2. Drive the rear wheels onto the dolly.
3. Firmly set the parking brake.
See Parking Brake on page 9‑58.
4. Put the transmission in P (Park).
5. Secure the vehicle to the dolly following the manufacturer's instructions.
6. Use an adequate clamping device designed for towing to ensure that the front wheels are locked into the straight position.
7. Turn the ignition to LOCK/OFF.
See also:
Pickup Conversion to Chassis Cab
We are aware that some vehicle owners might consider having the pickup box removed and a commercial or recreational body installed. Owners should be aware that, as manufactured, there are differences ...
Transfer Case
Refer to the Maintenance Schedule to determine how often to check the lubricant and when to change it. See Maintenance Schedule on page 11‑3. ...
Hood
To open the hood: 1. Pull the handle with this symbol on it. It is located inside the vehicle to the left of the brake pedal. 2. Go to the front of the vehicle and locate the secondary hood rele ...