Rear Towing (Rear Wheels Off the Ground)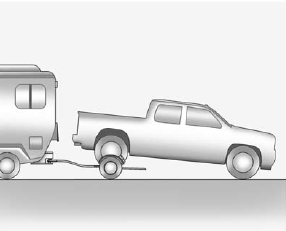 Two-Wheel-Drive Vehicles
Use the following procedure to dolly tow a two-wheel-drive vehicle from the rear:
1. Attach the dolly to the tow vehicle following the dolly manufacturer's instructions.
2. Drive the rear wheels onto the dolly.
3. Firmly set the parking brake.
See Parking Brake on page 9‑58.
4. Put the transmission in P (Park).
5. Secure the vehicle to the dolly following the manufacturer's instructions.
6. Use an adequate clamping device designed for towing to ensure that the front wheels are locked into the straight position.
7. Turn the ignition to LOCK/OFF.
See also:
Driving on Grades
Reduce speed and shift to a lower gear before starting down a long or steep downgrade. If the transmission is not shifted down, the brakes might get hot and no longer work well. Vehicles can tow in D ...
Recreational Vehicle Towing
Recreational vehicle towing means towing the vehicle behind another vehicle, such as a motor home. The two most common types of recreational vehicle towing are known as dinghy towing and dolly towing. ...
Vehicle Overview
GMC redesigned its full-size vans for the first time in seven years for the 2003 model year. The 2003 Savanas got upgraded powertrains, fresh features and an updated appearance. Three industry fir ...