Checking Coolant
The coolant surge tank is located in the engine compartment on the passenger side of the vehicle. See Engine Compartment Overview on page 10‑6 for more information on location.
The vehicle must be on a level surface when checking the coolant level.
Check to see if coolant is visible in the coolant surge tank. If the coolant inside the coolant surge tank is boiling, do not do anything else until it cools down. If coolant is visible but the coolant level is not at or above the FULL COLD mark, add a 50/50 mixture of clean, drinkable water and DEX-COOL coolant at the coolant surge tank, but be sure the cooling system is cool before this is done.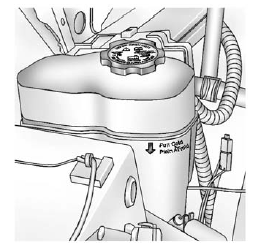 The coolant level should be at or above the FULL COLD mark. If it is not, there may be a leak in the cooling system.
See also:
How the System Works
URPA comes on automatically when the shift lever is moved into R (Reverse). A single tone sounds to indicate the system is working. URPA operates only at speeds less than 8 km/h (5 mph). An obstacle ...
Trailer Brakes
A loaded trailer that weighs more than 900 kg (2,000 lbs) needs to have its own brake system that is adequate for the weight of the trailer. Be sure to read and follow the instructions for the trailer ...
Leaving the Vehicle With the Engine Running
WARNING It can be dangerous to leave the vehicle with the engine running. The vehicle could move suddenly if the shift lever is not fully in P (Park) with the parking brake firmly set. If you have ...