Replacing the Engine Air Cleaner/ Filter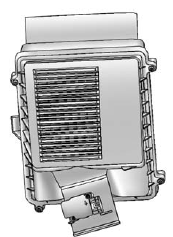 1. Locate the air cleaner/filter assembly. See Engine Compartment Overview on page 10‑6.
2. Loosen the four screws on the cover of the housing and lift up the cover.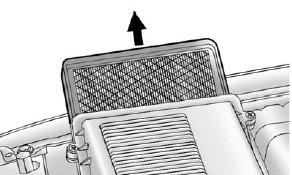 3. Remove the engine air cleaner/ filter from the housing. Take care to dislodge as little dirt as possible.
4. Clean the engine air cleaner/ filter sealing surfaces and the housing.
5. Inspect or replace the engine air cleaner/filter.
6. Reinstall the cover and tighten the screws.
WARNING
Operating the engine with the air cleaner/filter off can cause you or others to be burned. The air cleaner not only cleans the air; it helps to stop flames if the engine backfires. Use caution when working on the engine and do not drive with the air cleaner/filter off.
See also:
California Fuel Requirements
If the vehicle is certified to meet California Emissions Standards, it is designed to operate on fuels that meet California specifications. See the underhood emission control label. If this fuel i ...
Infotainment
Determine which radio the vehicle has and read the following pages to become familiar with its features. WARNING Taking your eyes off the road for extended periods could cause a crash resulting in i ...
Antilock Brake System (ABS)
This vehicle has the Antilock Brake System (ABS), an advanced electronic braking system that helps prevent a braking skid. When the engine is started and the vehicle begins to drive away, ABS check ...