Lane Departure Warning (LDW)
For vehicles with LDW, it is intended to help avoid unintentional lane departures. It may provide a warning if the vehicle is crossing a lane without using a turn signal. LDW uses a camera sensor to detect the lane markings. It only operates at speeds of 56 km (35 mph) or greater.
The LDW indicator, @, appears green if a lane marking is detected. It changes to amber, flashes, and sounds three chimes if the vehicle crosses a detected lane marking without using the turn signal.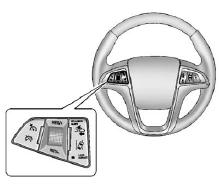 To turn LDW on and off, press the LANE DEPART button, located on the steering wheel.
See Lane Departure Warning (LDW) on page 9‑48 for more information.
See also:
Exterior
There's hybrid badging on the cab's rear window, ahead of the side mirrors and on the tailgate, but otherwise the hybrid version looks similar to the gas-powered version. ...
FM
FM signals only reach about 16 to 65 km (10 to 40 mi). Although the radio has a built-in electronic circuit that automatically works to reduce interference, some static can occur, especially around ta ...
Obstacle Detection Features
A warning chime will sound and the liftgate will automatically reverse direction to the full closed or open position if an obstacle is encountered during a power open or close cycle. After removing th ...