Lane Departure Warning (LDW)
For vehicles with LDW, it is intended to help avoid unintentional lane departures. It may provide a warning if the vehicle is crossing a lane without using a turn signal. LDW uses a camera sensor to detect the lane markings. It only operates at speeds of 56 km (35 mph) or greater.
The LDW indicator, @, appears green if a lane marking is detected. It changes to amber, flashes, and sounds three chimes if the vehicle crosses a detected lane marking without using the turn signal.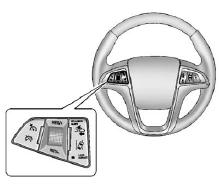 To turn LDW on and off, press the LANE DEPART button, located on the steering wheel.
See Lane Departure Warning (LDW) on page 9‑48 for more information.
See also:
When the Light Flashes First and Then Is On Steady
If the light flashes for about a minute and then stays on, there may be a problem with the TPMS. If the problem is not corrected, the light will come on at every ignition cycle. See Tire Pressure Mon ...
Fuel Economy Light
For vehicles with the fuel economy mode light, it comes on when the eco (economy) switch, located on the center console near the shifter, is pressed. For vehicles with a Driver Information Cente ...
Storing Memory Positions
To save into memory: 1. Adjust the driver seat, seatback recliner, and both outside mirrors. See Power Mirrors on page 2‑16 for more information. Not all vehicles will have the ability to sav ...