Hood
To open the hood:

1. Pull the handle with this symbol on it. It is located inside the vehicle to the left of the brake pedal.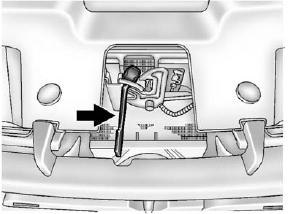 2. Go to the front of the vehicle and locate the secondary hood release. This is located under the hood, near the center of the grille.
3. Push the secondary hood release to the right.
4. Lift the hood.
Before closing the hood, be sure all the filler caps are on properly.
Then bring the hood from full open to within 152mm (6 in) from the closed position, pause, and push the front center of the hood with a swift, firm motion to fully close the hood.
See also:
Securing a Child Restraint Designed for the LATCH System
WARNING If a LATCH-type child restraint is not attached to anchors, the child restraint will not be able to protect the child correctly. In a crash, the child could be seriously injured or killed. In ...
Brake System Warning Light
The vehicle brake system consists of two hydraulic circuits. If one circuit is not working, the remaining circuit can still work to stop the vehicle. For normal braking performance, both circuits need ...
Interior Care
To prevent dirt particle abrasions, regularly clean the vehicle's interior. Immediately remove any soils. Note that newspapers or dark garments that can transfer color to home furnishings can ...